84th Season
 August 
2020
311th Production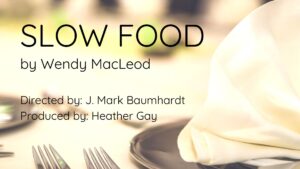 QP is very happy to be able to produce live theater once again. It is a bit unusual to be performing on our front porch, but it is part of our commitment to keep the arts alive and available to our patrons, actors, and designers while acknowledging the gravity of the Covid-19 pandemic facing our communities.
Because there is no cost to see the show, QP would appreciate and gratefully accept donations.
 CAST:
Kim Anton Myatt as Irene Jason Myatt as Peter Adam Heroux as Stephen
TIME & PLACE:
A Sunday night in March at a Greek restaurant in Palm Springs
SLOW FOOD is presented by special arrangement with Dramatists Play Service, Inc., New York.
Originally produced by Merrimack Repertory Theatre
(Sean Daniels, Artistic Director; Bonnie J. Butkas, Executive Director)
SLOW FOOD was developed during a residency at the Eugene O'Neill Theater Center's (Preston Whiteway, Executive Director; Wendy C. Goldberg, Artistic Director) National Playwrights Conference in 2015.
Quannapowitt Players, Inc. is a member of the Eastern Massachusetts Association of Community Theatres (EMACT), the American Association of Community Theatres Alliance of Artists & Producers (AACT), Stage Source, New England Theatre Conference (NETC) and ARTS Reading
PRODUCTION STAFF:
Director – J. Mark Baumhardt Producer – Heather Gay Sound – Mike McTeague Social Media & Web – Jenny Fielding & Donna Corbett Web Program – J. Mark Baumhardt, Donna Corbett & Bruce Pennypacker
SPECIAL THANKS TO:
Harrow's Chicken Pies and Wally Arsenault for allowing us to park in his lot. Additional thanks to volunteers: Marc Capizzi, Lennie Chasse, Donna Corbett, Jenny Fielding, Marcella Flaherty, Heather Gay, Nick Gould, Laura Liberge, Kate Mahoney, John Murtagh, Phyllis Uloth, Bruce Pennypacker, Kara Schmitt, Jon Sachs, Brian Sensale and Glenn Wakeley
WHO'S WHO:
J. Mark Baumhardt (Director): Previous QP credits include: Producer and Sound Designer for Silent Sky. Directing The Lion in Winter, Mauritius, Becky's New Car, All My Sons, Hide and Seek and Five Women Wearing the Same Dress. Mark also appeared as Saul Kimmer in True West and designed sound for Mothers and Sons, Prelude to a Kiss, and Vanya and Sonia and Masha and Spike. Directing credits elsewhere include: Ripcord at Vokes, A View from the Bridge at The Umbrella, and The Country House at The Concord Players, among others. Favorite acting roles include: Schultz in Circle Mirror Transformation with the Burlington Players, Reuben Soady in Escanaba in Da Moonlight with Acme, and Mike Talman in Wait Until Dark with the Concord Players.
Kim Anton Myatt (Irene): Previous QP credits include: Chloe in My Old Lady and Beatrice in Much Ado About Nothing. Acting credits elsewhere include: Mary in The Language Archive, Melissa Gardner in Love Letters, Ruth in Blithe Spirit, Hesione in Heartbreak House, Nina in The Seagull, Della in Tongue of a Bird, Angela/Barnadine in Measure for Measure, and Elizabeth Bishop in Dear Elizabeth.
Jason Myatt (Peter): At QP Jason's roles include Evans in Terra Nova, President Smith in November, Steve in Becky's New Car, Duane in Duck Hunter Shoots Angel, George in All My Sons, and Dogberry in Much Ado About Nothing. Jason has also appeared on stage locally at Hovey Players, Acme Theater, Vokes Players, Arlington Friends of the Drama, Arts After Hours, Publick Theater, Stoneham Theater, The Umbrella, Spotlight Playhouse, Burlington Players, Mill6 Collaborative, Devanaughn, Rough and Tumble Theater, the Peabody House Theater Cooperative, and others.
Adam Heroux (Stephen): Adam has been performing in community theater for over fifteen years, but QP is easily his home away from home. A few past favorite roles on the stage here include Bowers in Terra Nova (DASH Supporting Actor Nomination), Hannay in The 39 Steps (DASH Best Ensemble Nomination), and David Selznick in Moonlight and Magnolias (DASH Best Play Nomination). Adam is also an occasional playwright, with some of his shorts and one-acts having been produced at QP, Acme Theater in Maynard, and the Firehouse Center for the Arts in Newburyport.
QUANNAPOWITT PLAYERS BOARD OF DIRECTORS
Mark Baumhardt – President, Ron Wackowski – Vice President, Phyllis Uloth – Secretary, Brian Sensale – Treasurer, Donna Corbett, Jenny Fielding, Heather Gay, Shawn Maguire – Directors at Large and Bruce Pennypacker – Past President
Quannapowitt Players 55 Hopkins Street, Reading MA 01867
Box Office & Information 781.942.2212 or www.qptheater.com